Music Scene Record Shop
Believe it or not, vinyl records are having a massive resurgence, with 4.3 million chart-eligible LPs being sold in the UK alone, and the remarkable vinyl revival is set to continue in 2020. How can this be when everybody is using Spotify or Apple Music, right???
Now any hardcore fan of vinyl will go to great lengths (Well at least 12"s anyway …. See what I did there?) to explain just why they love the 'old skool' look and feel of their glossy black discs they cherish so dearly. We spoke with long-time record store owner, Damian MacCormack of Music Scene Record Shop, to get a local take on this global renaissance and to learn just what we are missing out on.
Having only recently relocated to 6 Colomberie Parade, after over 15 years in his previous shop near the old Odeon cinema, Damian kindly agreed to meet with me and show me around his small but perfectly functional premises. Now Damian firmly believes that small businesses, such as his, are key to the local economy and indeed bring real character and appeal to the streets of St Helier. After spending just 30 minutes with him, I have to say, I completely agree. Damian has a real passion for music and, having first shown an interest in his chosen field of expertise when but a toddler, he now possesses a vast knowledge across all genres of music and is happy to share his wealth of experience.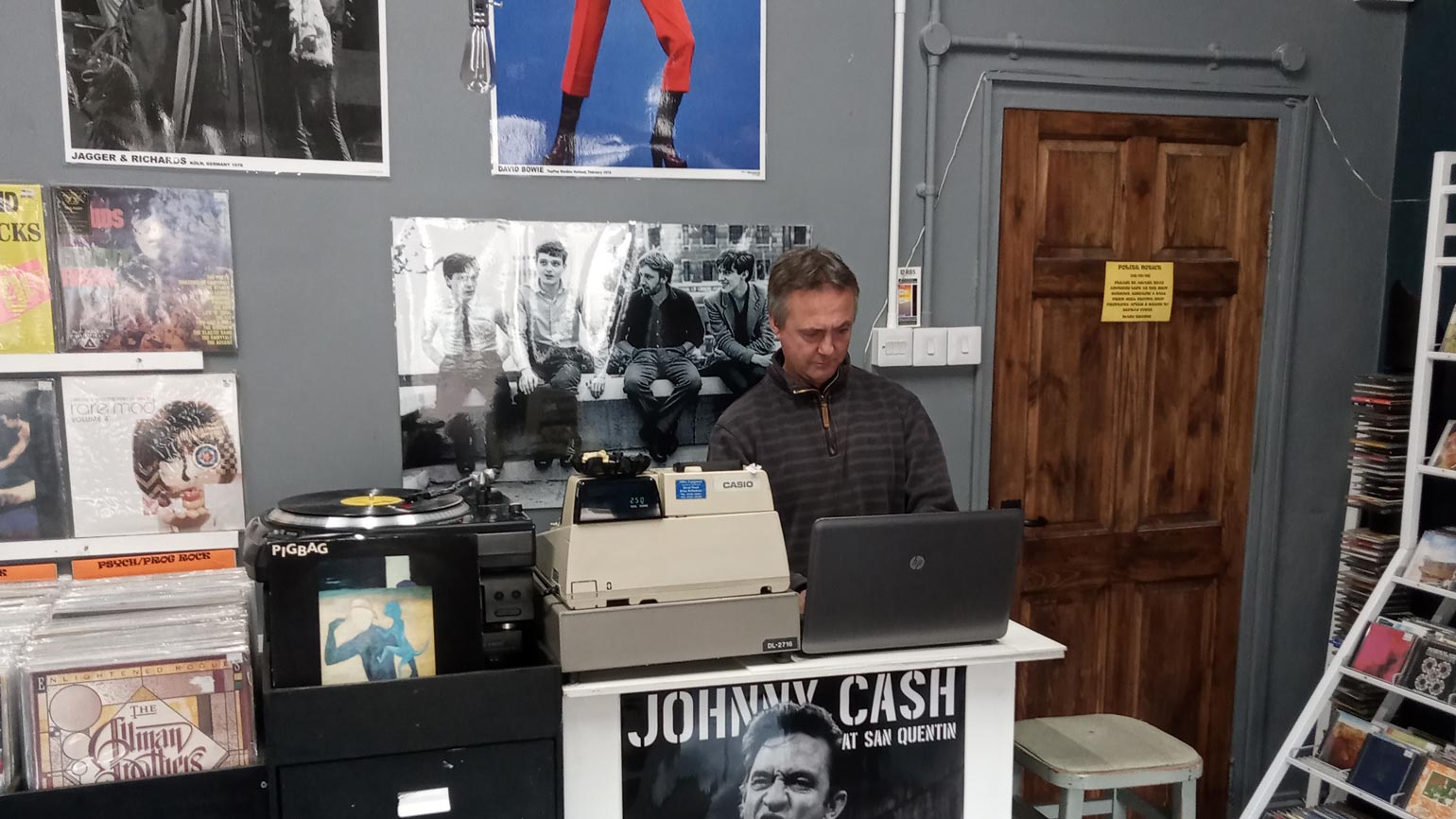 In-store you'll find LPs, singles (45s), cassette tapes, DVDs and even the odd VHS videotape (It brought a smile to my face just picking one up again). Prices range from £1 for a lucky-dip style bag of old 45s through to as much as £200 for a rare and considered 'classic' LP. The average price for a "used but in good condition" LP is around £6 - £8. The majority that I picked-up to view were, I'm told, original first pressings with complete and original artwork. It took me back to a simpler, and arguably better, time. I remember fondly spending many a Saturday afternoon browsing the once extensive record department in Woolworths. Ah, good times.
Damian also offers a bespoke Special-Order service where he can tap into his vast network of contacts to find you a real and perhaps previously elusive disc. Damian will do his very best to get it for you. He also orders in new releases and even has access to vinyl releases from local bands. I know … Who knew, right?
Just being in Damian's company for a short while was a real pleasure and I could easily have spent so much longer with him, happily chatting over our favourite bands and nostalgically fondling copies of LPs I once played over and over relentlessly, memorising the words by singing along with the included lyric sheets. In the process, of course, driving my long-suffering parents crazy.
There's no question that a vinyl record is a lot nicer than a CD. It's nicer to hold in your hands, you can do more with.

Simon Le Bon, Duran Duran
I may no longer be 16 but, following my visit to Music Scene, I am keen to join the growing number of folks that seek to relive the 'good old days' through the medium of vinyl. But, don't be fooled into thinking that vinyl is just for children of the 70s & 80s. Damian reminded me, several times in fact as my eyes glossed-over as I pawed a near mint and first pressing copy of the Rio album by Duran Duran (First released on the 10th May 1982 BTW and one of my favourites, both then and still now), that vinyl is very much happening right now.
Recently, artists such as Coldplay and Ed Sheeran have included vinyl versions of their albums alongside CD and MP3 (Streaming) formats. It seems that more vintage bands are also cashing-in on this vinyl train as re-issues of their back catalogues are made available once again to an ever-growing and eager to buy market.
My thanks to Damian for his time and for sharing his love of music with me. Damian prides himself on building long-lasting friendships with his loyal customer base, made up of both locals and frequent visitors to the island, and I can see how his laid-back and amiable personality would help him to achieve this. I'll definitely be back soon. Until then Damian, continue to love your music and keep doing what you're doing. After all, music makes the soul smile. And vinyl? Well, it just smells so much better than an MP3 right?

View More