The brand new 2020/21 Jersey Directory is the book you know and love with many new, useful additions! A powerful local resource, we deliver complete and accurate information for island businesses, residents and much more.
A great example of the benefits of 'tradigital' - a combination of traditional and digital marketing - the directory works alongside jtdirectory.com to provide Island residents and visitors with a comprehensive resource for local information.
DISTRIBUTION
The annual Islandwide distribution of the Jersey Directory will commence shortly, a few weeks later than originally scheduled due to the Covid-19 pandemic. Our distributor, Jersey Post, has secured the capable assistance of G4S to help complete the significant task. Directories are expected to reach the rural parishes first, from the 6th May onward, although it may be possible to bring that date forward still earlier. As this is the first time that distribution has ever been attempted during a lockdown situation, it is not known exactly how long it will take for all properties to receive a copy of the directory. However, all parties are committed to getting the books out to Islanders as quickly as possible.
All involved in the project are aware of the understandable concerns of islanders and Government advice regarding avoidable contact with people from outside immediate households.
In response, the distribution team will simply follow the 'Knock & Drop' technique already used by Jersey Post staff for regular parcel deliveries. A single book will be left outside the property after a knock on the door is attempted to alert the householder to the delivery. For those properties serviced by a communal letterbox arrangement, where Knock & Drop is not possible, sufficient books will be left to cater for all the residents. Deliveries to local businesses and larger corporate premises will be completed once the lockdown period concludes.
All distribution queries should, in the first instance, be sent to Jersey Post via jtdirectories@jerseypost.com or by calling 616516.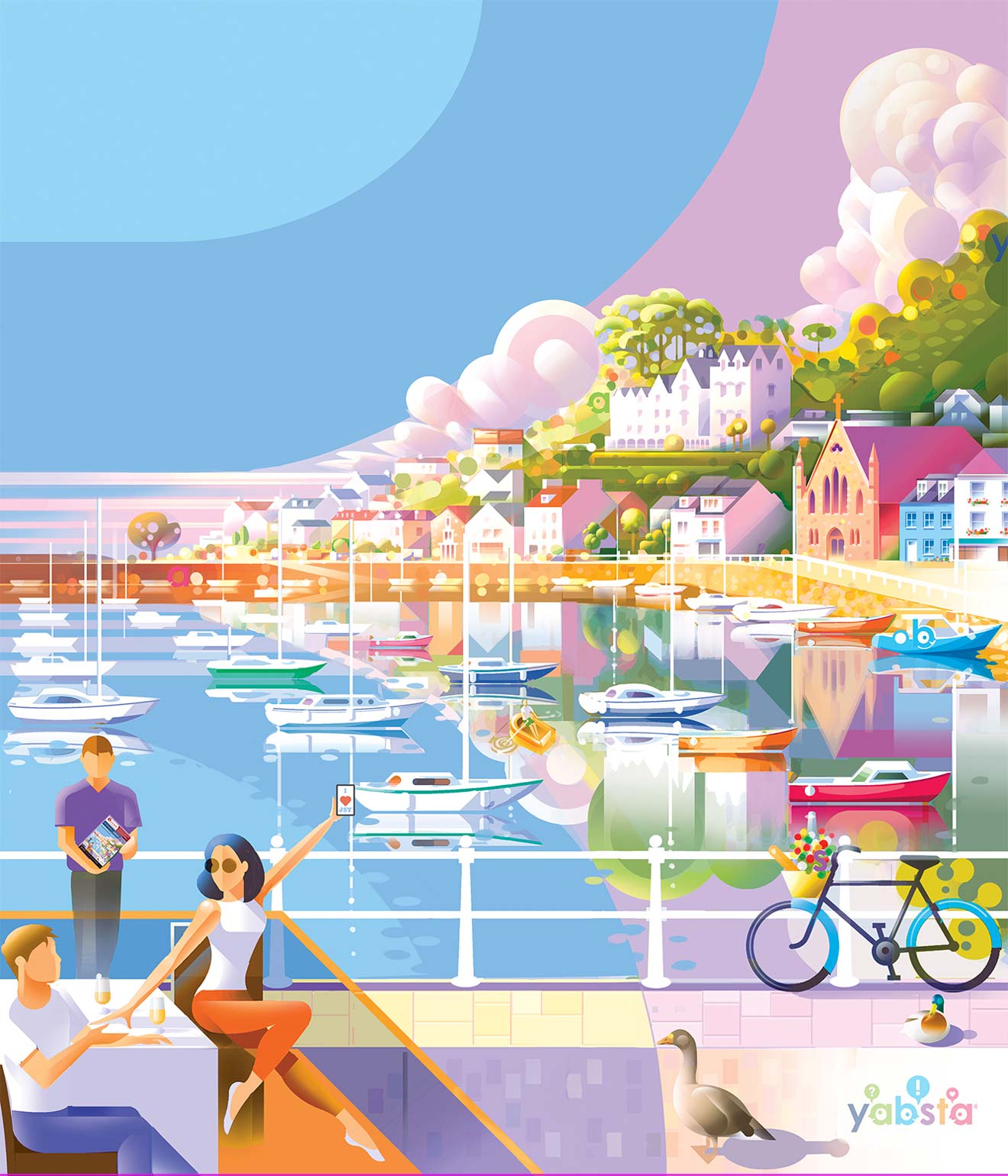 THE COVER
The 2020/2021 cover features a vibrant illustration of St Aubin by local designer Ron Mills who specialises in graphic design, illustration and art. Having spent most of his life in Jersey, Ron brings a unique perspective to his illustrations of the island and has found recent success with his series of Jersey travel posters.

Read our feature interview with Ron to learn more about the cover art, his wider body of work and what he loves about Jersey.
RECYCLING
With the current restrictions in place regarding access to recycling facilities, we ask that Islanders hold on to their old directory until such time that our regular drop-off locations might be made available once again. As soon as we are made aware of recycling restrictions being lifted, we will make a further announcement giving advice on any revised recycling options.
WHY STILL PRINT A DIRECTORY?
The Jersey Directory Team continues to see value in the printed version of the directory and believes it remains a staple of island life and contributes towards Jersey's unique community. Many islanders have limited or no access to the internet and, for these, the printed directory remains incredibly useful. Also, popular search engines such as Google or Yahoo, struggle to obtain and publish accurate and unique data for local Jersey businesses. Again, this is where a locally based publication can offer local businesses and end-users alike massive benefits.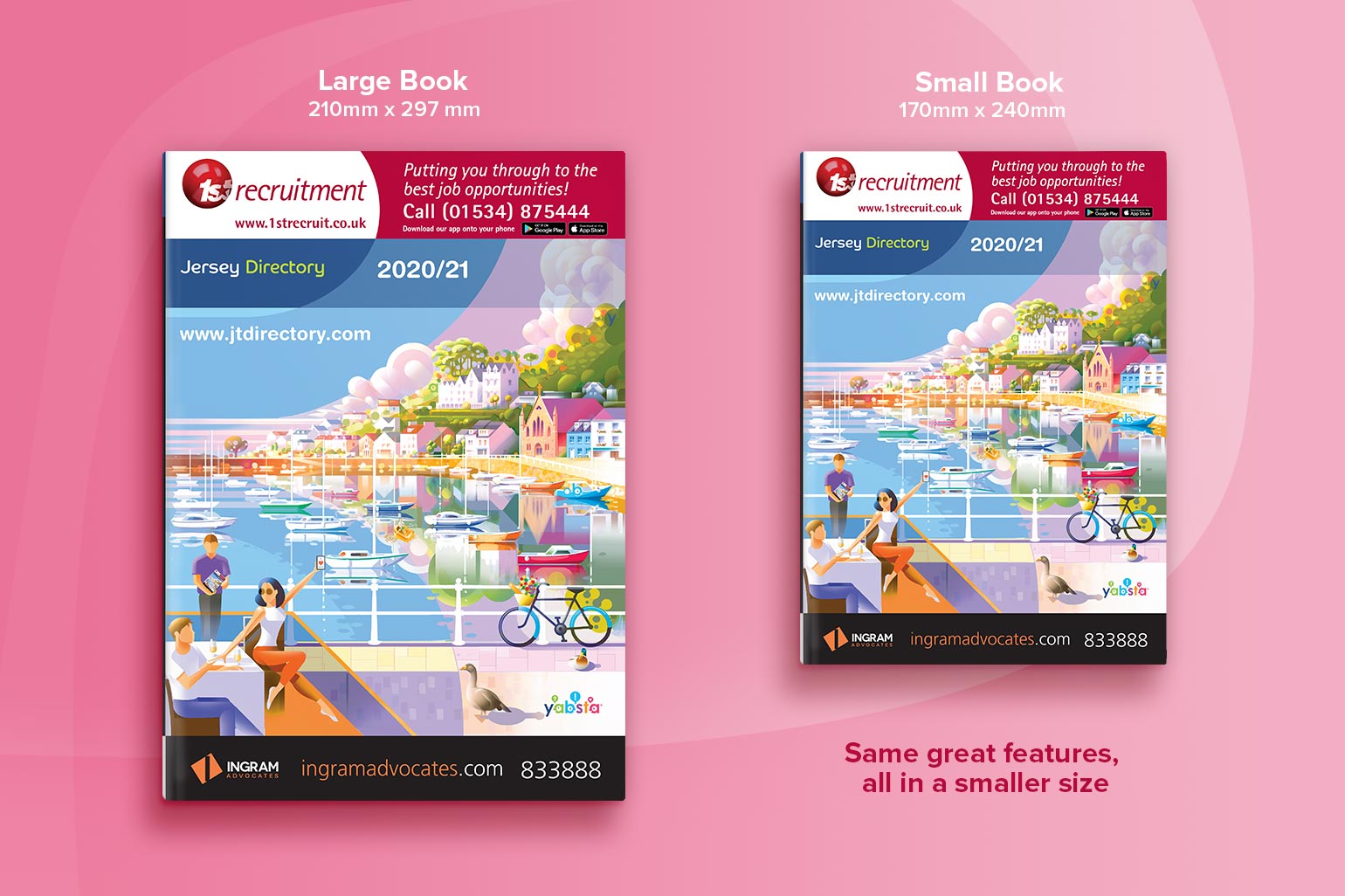 AVAILABLE IN TWO SIZES
The Jersey Directory is available, again this year, in 2 sizes; traditional A4 and the new but very popular smaller A5 version. The larger version is ideal for the home or office whilst the smaller version is designed to be more portable and convenient. Both have been printed using the best colour representation available whilst making no compromise on legibility. Big or small, the detail is the same; the text is clear and bold and images are vibrant and attractive.
ENVIRONMENTAL CONCERNS
The 2020/21 edition of the Jersey Directory is printed on 100% recycled paper using industry-leading printing technology. This year, to wrap and protect each book during transit, we have sourced a class-leading plant-based (Bioplastic) material. The wrap meets all current European standards for compostable plastics.
FEATURES

Emergency

Contact details for police, fire and hospital are easy to find in case of emergency.

White Pages

Precise listings for individuals include accurate addresses, email addresses and mobile phone numbers.

Business Pages


Highly detailed and easy to use Business listings.

Government

Improved Government Of Jersey departmental index piece, along with Parish Officials and Ministerial Government index.

Community Information


Helplines & Support, Help for Pensioners and Community Safety advice

Tide Tables/Safety At Sea

Full list of daily times and levels of high and low tides, plus helpful safety information.

Tried & Trusted

Highlighting long-established and successful local businesses.

Map Section

Handy map with street index for those times you don't have your phone or data available.
A MESSAGE FROM THE JT DIRECTORY TEAM
Every member of the Jersey Directory team wishes to thank you, in advance, for your support and patience shown during this challenging time and wish you and your family continued good health and happiness. We appreciate all feedback and ask that you contact us with your comments, compliments or complaints directly to info@jtdirectory.com.